Checkout my various services and programs below. If you have any questions, feel free to email me at hello@authentichealthpreneurs.com or book in for a FREE consultation.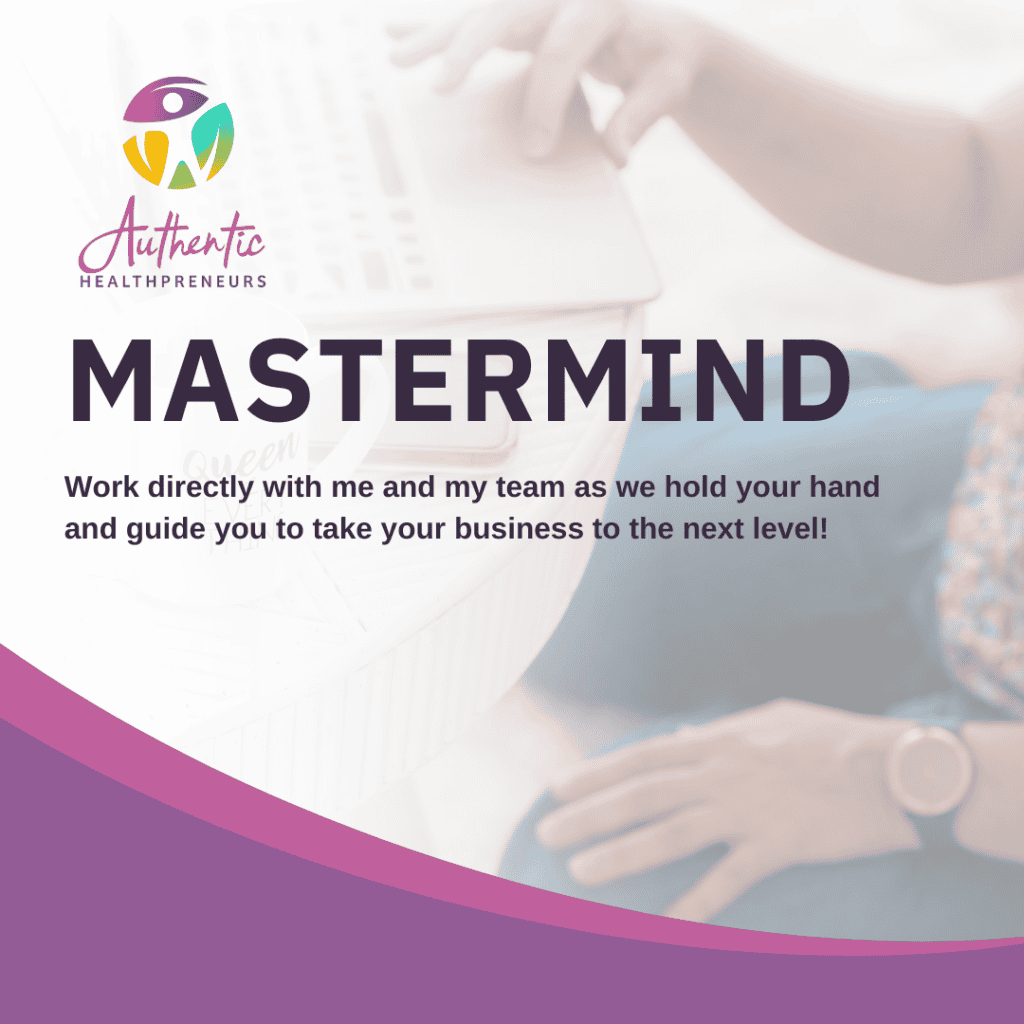 Authentic Healthpreneur Mastermind
Work directly with me and my team as we hold your hand and guide you to take your business to the next level! This is a 6-month transformational journey that includes...
Monthly Subscription
If you are not quite ready to dive in deep into one of my online courses, I have a special offer so you can still get tid bits along your business journey. I have created 3 levels of membership depending on your needs and budget...
Business Planning
I am offering an exclusive 1:1 2 hour Tailored Business Planning session to get you on track and succeed in 2023
Private Business Coaching
Apply for Authentic Healthpreneurs 1-on-1 Coaching with Merendi Leverett
Brainstorm Session via Voxer
It is 1 hour where you get to ask me anything you want and I'll share with you everything I know
Business Audit
If you have found yourself in a situation where your business systems have not been reviewed or updated for a very long time or maybe you have been running solo for so long and all your business processes and procedures are in your head, then let's talk……
Graesan Nixon
Occupational Therapist, Brisbane
I would highly recommend Merendi for women with allied health start ups, she has a lot of wisdom in this area and is wonderfully supportive!
Fiona Bond
Exercise Physiologist, Queensland
Merendi has a wealth of knowledge, experience, wisdom and enthusiasm for supporting women in health businesses, particularly allied health! Her support has been so valuable for me, particularly in the areas of management, marketing, leadership, communication and networking. We all need a cheerleader on the side line, and with Merendi alongside you, you are sure to feel supported.
Bianca Stawiarski
Entrepreneur, South Australia
Was so excited when I heard that I was successful in the American Express and Rarebird's First Nations Business Growth which focused on 12 months of mentoring to help my business growth. I got matched with an awesome mentor, Merendi Leverett from Authentic Healthpreneurs. We've had one awesome session so far and I'm amazed that our paths haven't crossed before. I've been so flat out with action in my business that I hadn't posted about being successful in the scholarship before. Yesterday a beautiful boxed parcel arrived with First Nations business sourced goodies. Looking forward to the next 12 months.
Rachelle Ekevall
Founder and owner of BillyLids Therapy
We didn't know where to start when opening our small business. All we really had was an idea. Merendi gave us the guidance, support and encouragement we needed to get moving! Her knowledge is invaluable. Recommend +++
Rosanna Alexander
Co-owner of BillyLids Therapy
I could not recommend Merendi and Authentic Healthpreneurs more highly! Merendi, in addition to being an absolute pleasure to work with, is a wealth of knowledge and has great connections within the industry. Without her support there is no way we would've got our allied health business ready to hire staff and service clients in the timeframe that was achieved.